Bats, Bees and Larva!
Monday I had the pleasure of attending a breakfast at the Johnny Wilson Farm.  It is an event they hold the first Monday of the month for widowed women in the community.   It is a great venue for the ladies to fellowship.  I was asked some questions that maybe of interest to you.
Question: How can I stop bats from roosting in the eves of my house?
Answer: Closing off entry points with hardware cloth or wire screen stops the bats from gaining access to the inside of the house.  Once the bats leave at dusk, close off the access point. Fall is a good time to control bat problems.  In the spring there are newborn bats that stay behind in the roost when the parents go out foraging for the night.  Closing off the opening will seal in the young bats.  
If bats are roosting on the outside of the house, try squirting them with a water hose.  This will encourage them to find another roosting location.
Question: Have killer bees been seen in Caldwell County?
Answer: There have been no reports of Africanized bees in Caldwell County. The term "killer bee" is sometimes used to refer to Africanized honey bee (AHB). The AHB look nearly identical to European honey bees. The vein pattern of the wings is used to differentiate European honey bees from the Africanized honey bees (AHB).

Experts believe it is possible for AHB to establish in all parts of North Carolina. North Carolina Department of Agriculture and NC State University are trying to prevent AHB from becoming established in the State.  There are inspectors in Wilmington and Morehead City looking exotic insects arriving at these ports. In addition, both ports are declared as "bee-free" zones.  Trap nests have been established to attract any bee swarms. All bees are destroyed and examined to determine if they were Africanized.

It is my understanding that this effort has captured two colonies of AHB that come into these ports. For more information about AHB please have a look at our factsheet (http://www.cals.ncsu.edu/entomology/apiculture/pdfs/1.03%20copy.pdf).

Question: (See picture) What are these creatures attacking my pine trees?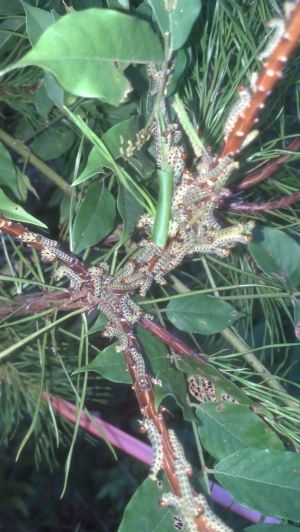 Answer: These are redheaded pine sawfly larva (Neodiprion lecontei).  These can be a problem in young pine stands.  Sawflies build in numbers for a year or two then natural enemies, usually a virus, brings the sawfly numbers back down.  The redheaded pine sawflies larva can be found in mid summer to early fall.  There are other sawfly species that are active in the spring.  

Occasionally sawflies become a problem in young pine stands.  Control is sometimes required so the young trees are not killed.  The redheaded pine sawfly seems to be a bigger problem in loblolly stands.

Was the information on this page helpful?
This page can also be accessed from:
go.ncsu.edu/readext?240559