If I Had to Choose
Find this article at:
go.ncsu.edu/readext?265286
To say that growing quality fruit in our area is challenging is an understatement. Apples get rust diseases. Pears get fireblight. And don't get me started on peaches. If it were me, I'd stick to delicious, low-maintenance blueberries.
Blueberries are easy to grow, prod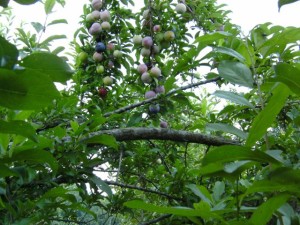 uce fruit consistently, have few pest problems, and preserve well. They're also great on a bowl of cereal.
Blueberries are adapted to our acidic soil, and so require less lime before planting than fruit trees. They do, however, need more compost, manure, or other organic matter in the soil. Performing a soil test and following the recommendations on the soil test report prior to planting blueberries will ensure that you get the most out of your investment. The last thing you want to do is plant bushes just to watch them turn yellow, because the soil pH is off.
Blueberry bushes generally benefit from tilling in either compost or aged pine bark (also called soil conditioner) into the soil. Once planted, they do best if they are mulched with a couple of inches of pine bark to keep the plant's shallow roots cool and keep moisture in the soil.
Blueberries can be grouped into three categories: highbush, rabbiteye, and Southern highbush. Within each of these groups are a number of varieties of blueberries.
Most of the blueberries grown in North Carolina are of the Rabbiteye type. They can withstand drought and heat and will grow well in a variety of soil types. Common varieties include Premier, Tifblue, Climax, and Powderblue.
Highbush, or Northern Highbush, types are grown mostly in the Northern U.S. These bushes produce berries later in the season than Rabbiteye types. Some highbush varieties can be grown successfully in our area.
Southern Highbush blueberries are relatively new. They were developed in Georgia and are adapted to sandy soils and hot summers. They are not the best choice for our area.
If you're going to plant blueberries, choose at least two different varieties to maximize yield. To have fresh berries throughout the summer, choose varieties that mature at different times.
Blueberry bushes will be available at the annual 4H plant sale fundraiser coming up in February. Order forms for the sale will be available in early February. To ensure that you receive a form, contact the Caldwell Extension office at 828.757.1290 or e-mail Tina Lovejoy at tina_lovejoy@ncsu.edu.