Pruning Grapevines
Find this article at:
go.ncsu.edu/readext?263068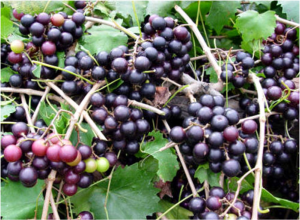 One of the most common questions I get at this time of year is about when and how to prune grapevines, especially muscadine vines.
Muscadine grapes are native to the southeastern U.S. and are tolerant to many insects and diseases. Our area is rated as marginal for muscadines, because our cold winters sometimes damage vines.
Mature grapevines left unpruned can quickly become a tangled, unproductive mess and may not bear fruit every year. To get the most out of your vines, they should be pruned annually. Grapevines that are pruned regularly will generally produce bigger, sweeter fruit than vines that are not.
The best time to prune grapevines is in February, but it can be done later. Vines pruned later in the spring will bleed more (exude sap from the areas that were cut). However, the increased bleeding does not hurt vines.
The most fruitful wood is that which is closest to the main trunk, exposed to sunlight during the summer, and thicker than a pencil. As a vine gets older, the most fruitful wood gets farther away from the main trunk, so occasional retraining of cordons is necessary.
Most vines are trained on a trellis system, where the main stem splits into a couple of arms that are trained horizontally on wires. From these arms, grow long canes with buds that will produce new shoots on which fruit is born. Because grapes are produced only on these new shoots, cutting off more than last year's flush of growth will prevent fruit from forming that year.
To prune grapevines, cut one year old canes back to three to four buds. This is usually equal to about 3 or 4". Some canes should be completely removed, so that a spacing of 4 to 6" (about a hand's width) is maintained between them. Old fruit should also be removed, because it carries diseases.
For those who have never pruned a grapevine, it may seem like this method removes too much wood. In fact, proper pruning of grapevines removes about 90% of last season's wood. A common mistake is to prune lightly.
For detailed information on pruning, visit http://go.ncsu.edu/mytvxl .