Early Blight Reported on Tomatoes
A sample of tomato leaves with early blight was brought to our office yesterday.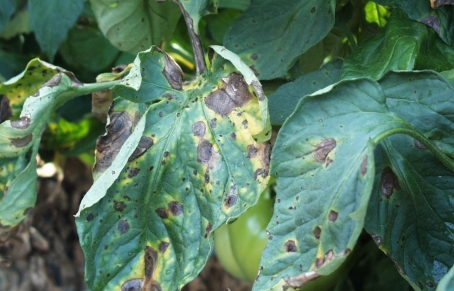 Early blight, caused by the funugs Alternaria solani, is showing up in Caldwell County gardens now. To manage this disease, remove infected leaves, spray with a fungicide, and mulch around the plants.
Early blight is the most common disease we see on garden tomatoes. It is a fungal disease that, if left untreated, can kill plants.
Infections of early blight usually begin when water splashes infected soil onto lower leaves or the stem. (The disease can also come on the plants from the garden center.) Soon afterwards, black spots develop that may be surrounded by a yellow area. The spots grow in size and number, spreading upwards towards the top of the plant. As the spots grow, they form a bulls-eye pattern. Lower leaves eventually wilt and fall off.
Early blight infections spread rapidly when temperatures are around 80 degrees, and it is humid. This makes our climate perfect for the spread of this disease. Although the weather favors the spread of this pathogen, there are a few things a home gardener can do to protect their crop.
Grow your own transplants. Early blight can hitchhike into your garden on infected transplants. Transplants can be infected even though they aren't yet showing symptoms. Once conditions are right, spots will develop.
Choose resistant varieties. Tomato varieties that are less likely to get early blight will be indicated with an A (for Alternaria, the name of the fungus) on the tag or seed packet. Examples include Plum Regal and Mountain Magic.
Plant clean seed. Early blight can be carried over from year to year on infected seeds. Don't save seed from plants showing disease symptoms.
Mulch. Mulching around the base of the plant with straw or newspaper will prevent the splashing that initiates some infections. Rotating tomatoes to an area of the garden where solanaceous crops (potatoes, peppers, eggplants) have not been grown in the past few years will help also.
Use drip irrigation. Watering the garden with a sprinkler splashes the soil, which can lead to early blight infections. Instead, use soaker hoses, which eliminate splashing by slowly dripping water onto the soil.
Protective fungicides. Fungicide sprays will not cure early blight infections but can be helpful in stopping the spread of the disease. For best results, alternate between applications of maneb and chlorothalonil every 7 to 10 days at the first sign of infection. If it rains, reapply fungicides as soon as possible. Removing infected leaves will also help.
For assistance in diagnosing your tomato problems, call the Caldwell County Extension Service at 828.757.1290.