Horticulture Questions and Answers
This spring has been very dry. Rain over the last two weeks have been very spotty. Hopefully you have received some of the moisture to help your landscape and garden. Below are some questions that have been posed to the Caldwell Extension Center.
Are carpenter bees more abundant this year?
Carpenter bee problems are no worse this year than in previous years. Carpenter bees typically reuse any of the same nesting sites year after year. This makes the carpenter bee problem seem worse over time as the local carpenter bee population grows.
Carpenter bees are large, black and yellow bees frequently seen in spring hovering around the eaves of a house or the underside of a deck or porch rail. They are most often mistaken for bumble bees, but differ in that they have a black shiny tail section.The carpenter bee is so-called because of its habit of excavating tunnels in wood with its strong jaws. The round half-inch diameter entrance holes are usually found on the underside of a board. Painted and treated woods are less preferred, but they are not immune to attack. Carpenter bees, like their distant relatives, the carpenter ants, differ from termites in that they do not consume the wood as food. They simply excavate tunnels for nesting sites.
Preventing carpenter bee damage is difficult. Protective insecticide sprays applied to wood surfaces are effective for only a short period. Since the bees are not actually eating the wood, they are rarely exposed to lethal doses of the pesticide.
Although it is a time-consuming, treating the entrance holes with an insecticidal spray or dust will reduce future nesting activity. Products containing carbaryl (Sevin) or cyfluthrin should be used to treat the holes. Always stand upwind from the surface you're treating. Treated tunnels should be sealed with a small ball of aluminum foil and caulked after 24-36 hours. Since active or abandoned tunnels may be used as overwintering sites or can be re-used next spring for nesting, it is important that they be sealed. The insecticide treatment is important because it kills both the adult bee as well as any offspring as they attempt to emerge later. Simply plugging untreated tunnels will for the emerging bees to simply chew another exit hole.
What causes these leaf spots? They're all over this maple.
There are several leaf spots diseases that affect maple trees. The fungus Phyllosticta is the disease responsible for the pictured spots.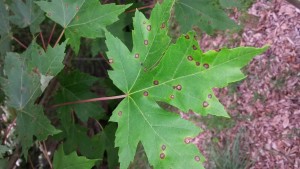 The spots that results from this fungus are about ¼ inches in diameter, typically there is a purple margin, tan center, and very tiny black dots in the middle of the diseased area. The good news is these Phyllosticta leaf spots are basically cosmetic and do not pose any long term risk to the tree. This disease is most common on Japanese maples, especially on the darker varieties, such as "Bloodgood". The disease appears as small, round bleached spots, easily contrasting the dark red of the leaves.
The best defense against fungal leaf spots is proper management. Rake up leaves in the fall. The fungal spores survive the winter on the fallen leaves. Leaves left at the base of the tree can be covered with wood mulch. Adding mulch buries the spores, keeping them from causing infection next year. Chemical control is rarely needed, and is most often not feasible because of tree size.
Some of my rhododendron have problems. What is the problem? What treatment should I use?
These are leaf and flower galls, caused by the fungus Exobasidium. The disease is temporary and will not kill plants.
Chemical control is not practical at this stage of disease. Handpick and destroy affected leaves and flowers. Fungicides can be used in the spring for control, but spraying must be done at leaf bud break early in the spring. This is usually not needed unless the infection is extremely widespread the previous year.
I have mums that I planted last year and have come back up this year. They are already budding and will be opening soon. Should I cut the blooms off in the hopes they will bloom in the fall or just let them?
Yes. Cut or pinch the blooms. This will cause side shoots to form. This will give a fuller appearance to the mums. Do this now, then again in three weeks, then again in early July. Stop pinching the blooms and terminal buds in mid July so flowers can develop for the fall.
For answers to your garden and landscape questions, call the Caldwell County Extension Center at 828-757-1290 or visit us online anytime at https://caldwell.ces.ncsu.edu.
Was the information on this page helpful?
This page can also be accessed from:
go.ncsu.edu/readext?360878