Moles Be Gone? Leaf Footed Stink Bugs.
This week I want to share some questions that have been asked at the Caldwell Extension Center. But first, I am excited to announce a change in the North Carolina pesticide law. It is now possible to use approved gophercides to control moles in turf. Manufacturers are submitting products for NC registration. Some products have already been approved for use and others will be available soon.
Currently approved products are Messina Wildlife's Mole Stopper Smoke, Motomco Mole Killer, Talpirid, Tomcat Mole & Gopher Bait, and Tomcat Mole Killer. I do not have any information on the efficacy of these products. I expect these products will begin appearing on store shelves in Caldwell County soon.
As always, before using any of these products, READ THE LABEL. These products, if used correctly, are designed to kill moles. Some of the new mole products will be be labeled as Restricted Use Pesticides and/or may have other restrictions. Purchase and application of these products may require an applicator's license. The products I have listed do not require an applicator's license to purchase or apply.
Q: Is it safe to can green beans in the oven?
A: No. Using the oven method is not a recommended method of canning green beans or any other food. It is dangerous because dry heat is slow to penetrate into jars (so recommended process times would not be enough), temperatures inside ovens vary (so a standard process time would be indeterminable), and no reliable, research-based safe process times have been developed for oven canning. There are also stories that jars heated in a dry oven could explode or break more easily than with recommended canning procedures. Improper canning was linked to a case of botulism poisoning this past spring in Ashe County.
If you would like to follow proper food preservation techniques, visit the National Center for Home Food Preservation at (http://nchfp.uga.edu/). This site is easy to use and has many short instructional videos. To learn more about food poisoning, follow Dr. Ben Chapman's blog (http://barfblog.com/).
Q: A friend says this is a horrible bug. I don't have a vegetable garden, but if I see this, should I kill it?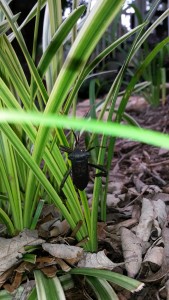 A: Short answer, yes, kill it. This is called a leaf-footed bug. It is one of our native plant feeding stink bugs. Typically they are not found in large numbers, but on occasion this bug can be a pest in the garden, nut trees, and landscape. Insecticides that work well on stink bugs also work well on this insect. Hand picking is a good option when only a few are found.
For answers to your garden and landscape questions, call the Caldwell County Extension Center at 828-757-1290 or visit us online anytime at https://caldwell.ces.ncsu.edu.
Was the information on this page helpful?
This page can also be accessed from:
go.ncsu.edu/readext?364519