Outdoor Activities for Youth
Find this article at:
go.ncsu.edu/readext?484610
Looking for an activity to get your child active and outside enjoying the outdoors? Then kayaking, canoeing, or stand up paddle boarding may be just the activity. Each of these paddle sports is not only fun but can be a great learning opportunity and source of physical exercise. Through the activities in our 4-H Summer Exploring Camps, we witnessed first hand all that kids can learn from canoeing.
First of all, youth develop creative problem-solving skills under pressure. Canoeing challenged the kids to re-evaluate their environment and come up with new plans quickly. For example, as we were canoeing down a river, the kids would see a rock in their canoes path then have to make a quick decision about what to do to avoid the rock. Solving those problems on the river as they arose will help youth to understand that there will be times in life they have to think critically and make decisions quickly.
Second, canoeing helps youth develop an awareness of the environment and our natural resources. This awareness can help them understand the need to protect our environment and natural resources.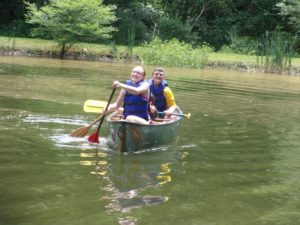 Being able to enjoy the natural environment around them will strengthen the connection they feel to nature. Along with our fun canoeing this summer, we were able to educate the participants on the importance of conservation of our river basins, watersheds, and overall environment.
Lastly, canoeing shows youth the fun and joy that can come from physical exercise. Doing a fun adventurous activity like a paddle sport develops their awareness and importance of physical fitness. Canoeing is a low impact activity that can improve aerobic fitness, strength, and flexibility. As kids participate more in canoeing and other paddle sports, they will begin to recognize the need for stretching, a good night's sleep, eating healthy, and other aspects of a healthy lifestyle.

Many children are hands on learners. Being able to provide an experience like canoeing showcased ways kids develop through hands on activities. Witnessing children having to work together as a team, solve problems as they arise, and recognize the joy of physical activity outdoors reemphasized how valuable activities like paddle sports can be for youth development.
When participating in paddle sports it is important to be safe. Plan ahead before you take your children kayaking or canoeing. Ensure your child wears a PFD (personal floatation device) that fits properly and comfortably.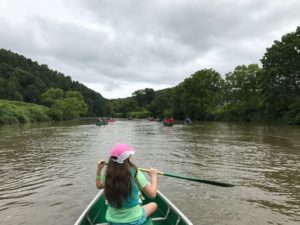 Have proper sun protection including sunscreen, a hat, and possibly a long sleeve shirt. Make a plan for where you will paddle to and how long it should take. Inform someone else of where you are going. Always be aware of the forecast and potential weather concerns.
To learn more about how paddle sports can benefit your children or opportunities that Caldwell County 4-H has to offer, please contact me at charlie_godfrey@ncsu.edu or 828-757-1257.