Fall Activities for Your Family
As Fall approaches and children are back in school, for many, thoughts turn from harvesting those last summer vegetables to picking apples and pumpkins. It is a busy time of year for parents and their children with new beginnings whether in schools, sports, or other activities. One great activity parents and children can do this time of year is get kids involved in their kitchen with baking.
Fall festivals and county fairs will be just around the corner. It is great to celebrate all the great produce you and your family enjoyed in the summer and continue to enjoy into the Fall. Along with being a reason to celebrate it is a reason to enjoy cooking and tasting the bountiful supply of fresh fall fruits and vegetables.
One of the most famous fall crops is apples. Thankfully in this area, there are various locations to purchase fresh locally grown apples. If your children or grandchildren have not experienced picking their own apples, I encourage you to find a farm where they can have that experience.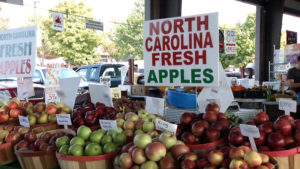 Below is a recipe that would be fun baking activities to do with children:
Apple Crisp from Cook Smart, Eat Smart
A lower-fat substitute for apple pie. All-purpose flour can be substituted if whole wheat flour is not available. Additional mix-ins such as fresh or dried cranberries, walnuts, pecans or almonds can be included as well.
Ingredients
2 tbsp. butter

3⁄4 cup quick-cooking oats

1⁄4 cup sugar

1⁄4 cup whole wheat flour

2 tsp. cinnamon

1 tsp. lemon juice\
Instructions
Preheat oven to 375 degrees F.

Coat baking dish with non-stick cooking spray.

Peel apples and cut into slices.

Melt butter in a small bowl in the microwave.

In a medium bowl, combine all ingredients except apples.

Stir until well blended.

Place apples in 9″ x 13″ baking dish and spread oat mixture on top.

Bake 45 to 50 minutes until desired brownness.
Serves 6.
To learn more about culinary activities to do with youth and other opportunities that Caldwell County 4-H has to offer, please contact me at charlie_godfrey@ncsu.edu or 828-757-1257.