Master Gardener Contributions in Caldwell County
Find this article at:
go.ncsu.edu/readext?500476
This is the time of year where I reflect on all that has happened during the last 12 months. This year I am particularly grateful for the dedicated people that strive to make the community we live in a better place. I have the pleasure of working with one such group- the Extension Master Gardener Volunteers of Caldwell County. Extension Master Gardener Volunteers undergo an intensive training program through N.C. Cooperative Extension. Then, as trained volunteers, they work in partnership with the Caldwell Cooperative Extension Center to extend horticultural information throughout the community. They help teach gardening classes, volunteer with garden-related demonstration projects, consult with and help implement community beautification projects, and set up tables at events where they are available to answer questions about gardening.
We have just over 20 active Master Gardener Volunteers in Caldwell County. In 2017, these volunteers logged over 850 hours of service in Caldwell County. They have furthered their own horticultural knowledge by participating in over 150 hours of continued education. They have also contributed in-kind donations in the form of mileage and time incurred to travel to volunteer sites, and materials used for various projects. The spring 2017 Caldwell-Alexander Master Gardener Volunteer training class had 17 participants, 12 of whom were from Caldwell County. Many of these 2017 "graduates" have quickly become involved in new and ongoing projects.
This year's projects reached a number of different audiences in the county. Several Master Gardener Volunteers assisted with plant distribution at the Edible Plant Sale we held here at the Caldwell Extension Center. Volunteers set up information tables at community events including the Blackberry Festival and the Lenoir Earth Day Celebration. One group of volunteers consulted with the Lenoir Senior Center on correcting a drainage and landscape issue along the entrance to the center. Another volunteer helped teach a container gardening class for those with limited vision. Master Gardener volunteers have been instrumental in setting up the Caldwell County Seed Library, which opened in June 2017. They have donated time repackaging seeds, taking inventory, and creating information cards for each seed packet.
Each year, Master Gardener Volunteers participate in the spring 'Bloom Blast' in Lenoir, where they fill the downtown planters with flowers and greenery. This year they partnered with the City of Lenoir Planning and Community Development Department to develop the theme of "Sidewalk Salad". They included edible plants in these spaces so passers-by could snack on a cherry tomato or piece of fresh lettuce as they strolled through downtown. Along with other community and church members, Master Gardener Volunteers from Caldwell and Iredell counties teamed up to correct a drainage issue and install new landscaping at the Buffalo Cove Baptist Church, located across the street from the Buffalo Mercantile Company and Café. The front of the church has been transformed from a basic mulched area to a beautifully landscaped grounds.
Master Gardener Volunteers tended several demonstration plots at the Unity Park and Community Gardens in Lenoir. This year, they tested 4 varieties of garlic, grew ginger and turmeric, and a monarch butterfly habitat.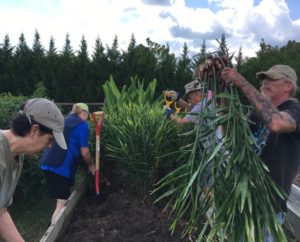 They evaluated the 4 garlic varieties- Porcelain, Purple Stripe, Turban, and Softneck- for yields and quality. Of the 4 varieties, Softneck and Porcelain had the highest yields and the best quality. The ginger and turmeric were a learning experience for all involved, and the garden was able to raise some funds by selling some of each crop through the High Country Food Hub. They also took charge of keeping the garden mowed and they revitalized the garden's blueberry bushes.
Keeping with tradition, the Master Gardener Volunteers play an important role in the Exhibit Hall at the Caldwell Agricultural Fair. They created a display this year, volunteered to help set up the hall, and checked in and judged entries.
The Master Gardener Volunteers are truly an asset to our community. We at the Extension Center are grateful for their support for our programs. If you or anyone you know would enjoy participating in these activities or furthering their horticultural knowledge, you are in luck! The 2018 Caldwell-Alexander Master Gardener Training program is now accepting applications. Classes will be held on Wednesday afternoons, 1-4 p.m., and will run February 7- May 9, 2018. The classes will include topics such as botany, tree and small fruit production, soils and fertilizer, plant pest identification and management, and much more. Classes will take place in either Caldwell or Alexander Counties, and will include field trips to farms and other sites for hands-on activities.
For more information on the 2018 Extension Master Gardener training, or to pick up an application, stop by the N.C. Cooperative Extension Caldwell County Center, Monday-Friday 8 a.m.- 5 p.m., or give us a call at 828-757-1290.