Add Warmth and Nourishment to Cold Days With Crock Pot Soup
Just like sitting by the fireplace, a bowl of hot soup on a cold day makes winter special. Soup nourishes the body and warms the soul. It's filling and tasty, and with a little bread can be a complete meal. Soup that sits for a day or two tastes even better, so it makes sense to cook a large batch for ready-to-eat meals later.
Especially while winter germs are floating around, eating nourishing soup made with a variety of ingredients is a feasible way to boost your immune system. It's easy to prepare on the stove top, but entering a home with the aroma of crock pot soup at the end of the day feels so welcoming.
This savory, inexpensive soup is simple to put together. Great served with cornbread.
Crock Pot Beef, Lentil and Vegetable Soup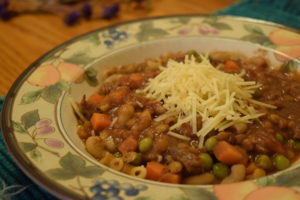 Ingredients:
1 pound beef tips or stew meat, cut into 3/4-inch pieces
4 cans (14-1/2 ounces each) or 58 ounces beef broth
1 cup lentils
1 can (14-1/2 ounces) diced tomatoes, undrained
¼ cup tomato paste
2 cups water
1 teaspoon dried Italian seasoning
1 teaspoon pepper
1 teaspoon salt
1 tablespoon brown mustard
10 ounce bag frozen mixed vegetables
1 cup uncooked pasta noodle
Shredded Romano or Parmesan cheese (optional)
Directions:
Combine all ingredients except frozen vegetables and pasta a slow cooker. Cover and cook on high for 5 hours or on low for 8 hours. (No stirring is necessary during cooking.)
Stir in mixed vegetables and pasta. Continue cooking, covered, 45 minutes or until pasta is tender. Stir well before serving. Serve with cheese, if desired.