Enjoy Tomato Season While it Lasts
Find this article at:
go.ncsu.edu/readext?619489
With kids going back to school, it feels like summer is nearly over. Fortunately, tomatoes, a favorite summer treat, are still coming in strong. Just like biting into a piece of sweet watermelon on a hot day, a just-picked, juicy tomato tastes like the essence of summer.
As a health bonus, tomatoes are known to contain lycopene and bioflavonoids, which are cancer fighting agents. They also protect cells with two powerful antioxidants: vitamin C and beta-carotene.
A plate of sliced tomatoes is a great addition to any meal. They also add character, flavor and color to many recipes.
This beautiful recipe featuring summer-fresh produce is perfect for a Labor Day gathering.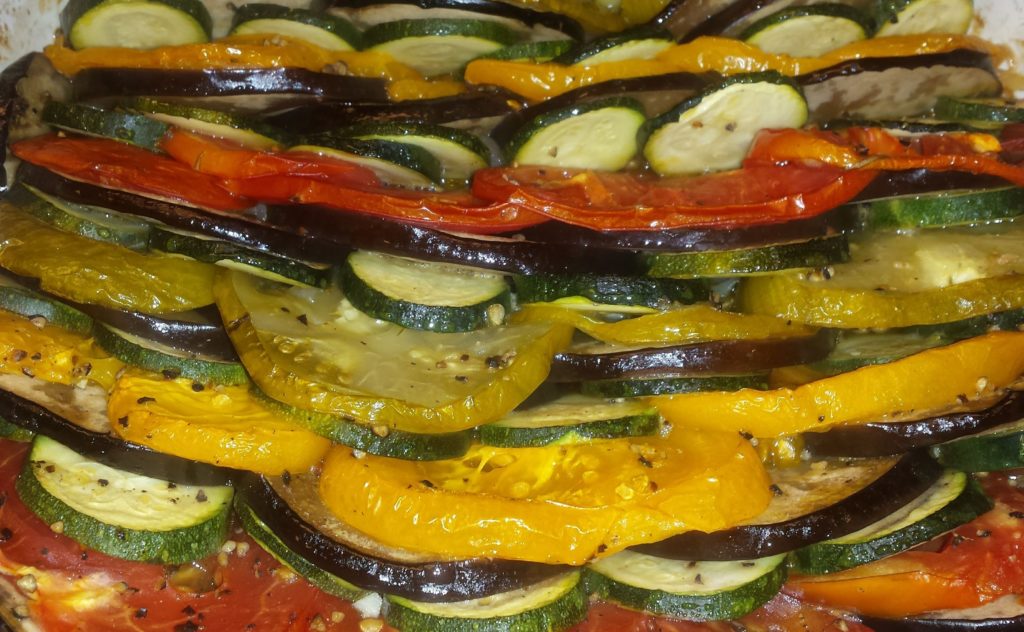 Ratatouille Bake
serves 6 – 8
Ingredients:
6 tablespoons extra-virgin olive oil, plus more
2 large white or yellow onions, thinly sliced
Salt and freshly ground black pepper
1 teaspoon dried oregano or 1 tablespoon fresh, chopped
1⁄4 teaspoon crushed chili flakes
6 cloves garlic, minced
non-stick spray
1 lb. medium zucchini, cut into 1/4-inch-thick slices
1 1⁄2 lb. small, firm eggplant, cut into 1/4-inch-thick slices (about 1 medium)
1 1⁄2 lb. ripe tomatoes, cored and cut into 1/4-inch-thick slices
Basil leaves, to garnish
Parmesan cheese as topping (optional)
Instructions:
Preheat oven to 400 degrees. Put oil in a large skillet over medium heat. Add onions and season with salt and pepper. Stir often and cook until softened, about 5 minutes. Add oregano, chili flakes, and garlic. Cook a couple of minutes more.
Spray a large glass ceramic cookware type baking dish, about 9 by 13 inches, with non-stick spray, and then spread the cooked onion mixture in the bottom. Arrange the zucchini, eggplant, and tomatoes in alternating rows: Start by making a row of overlapping zucchini slices, standing them vertically on edge. Follow with a row of eggplant, then a row of tomatoes in the same manner, packing the rows tightly together. Continue until the baking dish is filled. Sprinkle the surface of the vegetables generously with salt and pepper, and brush with olive oil.
Bake uncovered for 15 minutes. Reduce heat to 350° and continue baking for 45 minutes, or until the vegetables are quite tender. Let dish cool for 10 minutes or so to allow flavors to blend and for easier serving. To serve, garnish with torn basil leaves and top with shredded Parmesan cheese as desired.
This recipe is a simple, classic salad that is sure to impress.
Caprese Salad
Serves 6
Ingredients:
4 heirloom tomatoes, cut into 1/2″-thick slices (may also use non-heirloom)
8 oz. fresh mozzarella cheese
1⁄4 cup extra-virgin olive oil
1 tablespoon balsamic vinegar
10 basil leaves, coarsely chopped
salt and coarsely cracked black pepper, to taste
Instructions:
Arrange sliced tomatoes on a large serving platter. Dollop mozzarella cheese evenly over tomatoes. Drizzle with oil and balsamic vinegar. Sprinkle with basil, salt and pepper, and serve immediately.