Nuts: A Holiday Treat With Real Benefits
Find this article at:
go.ncsu.edu/readext?640086
Go ahead and grab a handful of nuts this holiday season. According to archeological digs, nuts have been part of the human diet for at least 780,000 years. Nowadays, they're easier to access than ever before, often with no cracking or shelling required. Everyday fare becomes more satisfying with the addition of nuts, as they add flavor, a healthy dose of fats and more.
Since 2003, the FDA has allowed the health claim on package labels, "Scientific evidence suggests but does not prove that eating 1.5 ounces per day of most nuts, as part of a diet low in saturated fat and cholesterol, may reduce the risk of heart disease." The health benefits of nuts in relation to cardiovascular disease risk have been widely studied and are well established.
Additionally, long term studies of individuals with high nut consumption have shown lower rates of death from cancer and respiratory disease. Further evidence supports the emerging role of nuts in reducing risk for insulin resistance and type 2 diabetes. The antioxidant and anti-inflammatory compounds found in nuts and seeds also are thought to be beneficial for the gut microbiota, which may aid the management of obesity and other inflammatory diseases.
Eating a handful of nuts or seeds is a delicious addition to any diet, and the ultimate convenience food.
In this recipe, the humble carrot is elevated to a new level with the addition of cashews, curry and ginger.
Curried Mashed Carrots and Cashews
Serves 5 – 6
2 pounds carrots
2 tablespoons vegetable oil
1 ¼ cup onion, chopped
1 tablespoon minced ginger
1 teaspoon curry powder
¾ teaspoon salt
1 teaspoon minced garlic
¾ cup lightly toasted cashews
2 tablespoons lemon juice
1 teaspoon honey (optional to taste)
Peel the carrots and cut them into 1 inch chunks. Place in a large saucepan and cover with water. Bring to a boil and then lower the heat to a simmer. Cook until carrots become fork tender (8 – 10 minutes).
Place a medium skillet over medium heat. Wait a minute and add the oil. Add onion and sauté until it softens, around 3 minutes. Add ginger and sauté for a couple more minutes, then sprinkle curry powder and ½ teaspoon salt. Reduce to medium low heat, add the garlic, and stir often for 8 – 10 minutes until everything is soft. If needed, add some liquid from the carrots.
Drain the carrots over a bowl to save the liquid. Transfer to food processor and add the onion mixture and cashews. Puree to desired consistency, adding cooking liquid as needed. Transfer to a bowl, and season to taste with lemon juice, honey, and a little more salt if desired.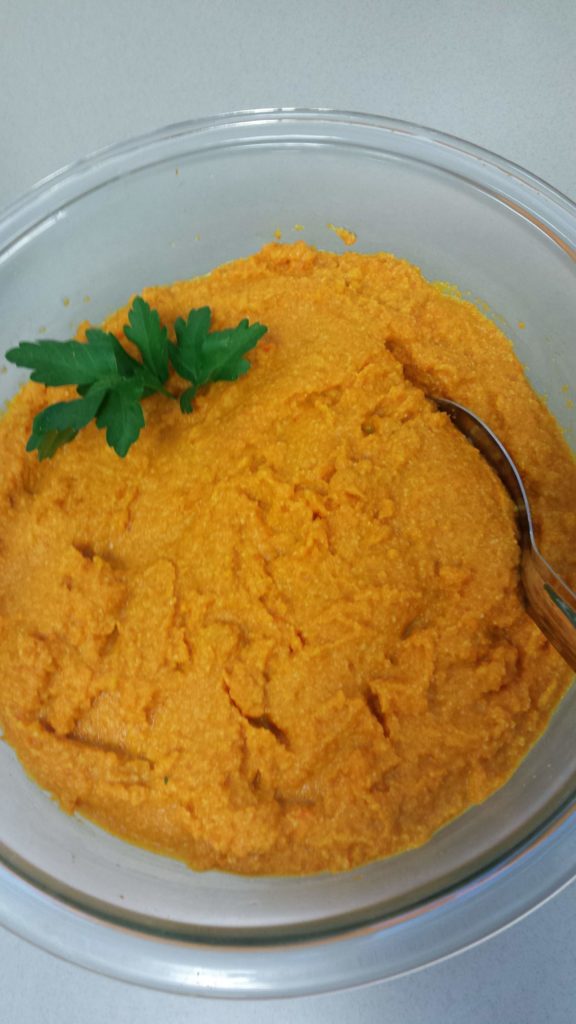 Kale has a much stronger flavor than lettuce. This sesame seed-based dressing provides the perfect balance for a salad.
Kale Salad
Serves 6 – 8
Stir together:
¼ cup tahini (ground sesame seeds)
¼ cup olive oil
juice from ½ lemon
2 cloves garlic, minced
1 teaspoon salt
½ teaspoon pepper
½ teaspoon curry powder
½ teaspoon cumin
Mix with 1 bunch kale, cut into bite-sized pieces.