The Gardener's Dirt July 2014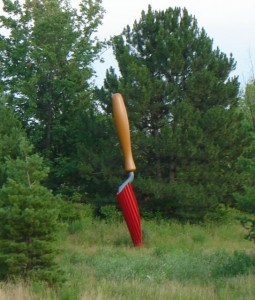 Information you can really dig into
–
This newsletter offers timely information for your outdoor living spaces. Addressing the most common questions ranging from container gardening, tree pruning, wildlife management, to fire ant control, insect identification and lawn establishment.
Click here for a printable version of this newsletter.
Shawn Banks
Extension Agent
Agriculture—Consumer Horticulture
---
FEATURE ARTICLE
What Plant Will Grow Here?
By: Shawn Banks
Occasionally I will get asked what plant will grow well in a certain location. I get excited when this happens. It usually means someone is looking to put just the right plant in a troublesome location. Or maybe they are looking for a great specimen plant to start a conversation at a garden party. Whatever the reason, I enjoy the question. It's far more enjoyable than, "what's killing my plant?"
I want to share with you a resource that is new this year. Sometime in January or February the new plants.ces.ncsu.edu was launched. While there is still a little work to be done on the site, it is up and working! The site used to be a stagnant website where you had to know the name of the plant you were looking for in order to find information about it.
Now… the website is a searchable database! Woot! Woot! Can you feel the excitement in my words? This site is even friendly to use on mobile devices!
When someone asks me what plant works well in a given site, now I can ask them a few questions and come up with a list of plants that will do well in just a few minutes. For example, if someone asked me to suggest a small tree that would grow in full sun and attract songbirds, I could go to plants.ces.ncsu.edu and search for trees. The following page contains a menu on the left of the screen that allows me to select height, light requirement, and in this case the option for attracting songbirds. As I place a check in each box for the specifications of the plant needed, the list of possible trees narrows. In this case I'm left with ten trees from which to choose. And I can be certain they will work in my location!
Other options for narrowing your search include flower color, leaf color, edible, and native. It's not perfect, but it's so much better than what was there before. It does not break the options down to specific cultivars in many cases, but it's a good place to start. Hopefully as they continue to work on the site, more options will be added.
It is a great resource if you want to plant a butterfly garden, or a color themed garden. It's even a good place to start if you want to garden for wildlife or to use only native plants. The number of options they could add to make plant selection easier is numerous, but that takes time and money.
As for me, I'm glad for the improvements that have been made. If you run across a plant we have highlighted in this newsletter, you may recognize a portion of the description on the page. When they redid the site, they asked if they could use some of the plant descriptions from this newsletter to spark a little interest. So in a small way, we (those who have asked us to feature specific plants and those written about by the Extension Master Gardener Volunteers) have helped make this site a little more interesting.
---
FEATURE PLANT
Glossy Abelia
Abelia x Grandiflora

By Shawn Banks
What a great plant to feature! If you are looking for a semi-evergreen plant that blooms forever during the summer, this is the plant. The slightly fragrant, white, funnel-shaped flowers begin opening in early summer and continue to bloom right up until frost. With so many flowers, it attracts all kinds of insects including bees, butterflies, beetles, and even some predatory insects as well.
Abelia x grandiflora will grow to a height of six feet or a little taller with long arching branches that give a lazy atmosphere. With leaves that are about ¾ to 1-½ inches long and wide and a dark glossy green hue, the plant has a fine to medium texture in the landscape. There are also dwarf cultivars that are more compact making them great foundation plants requiring little to no pruning. For those who prefer variegated leaves to add a little more color, there are cultivars to fill that niche as well.
Growth is best in well-drained soil, but it will tolerate both heavy clay soils and damp or dry locations. Flower production is heaviest in full sun; however, it produces a good number of flowers in partial shade as well. Because it withstands a wide range of growing conditions, Abelia x grandiflora makes a great hedge plant. I was also impressed when I saw one of the variegated cultivars used as an individual plant in a mixed border.
When deciding to redo an old landscape or when planning a new one, consider the many uses of Abelia x grandiflora.
References:
Plants: Abelia x grandiflora – http://plants.ces.ncsu.edu/plants/all/abelia-x-grandiflora/
---
UPCOMING EVENTS
Clayton Farmer's Market – Saturday, July 26, 2014 9am -1pm at Clayton Farm and Community Market. The Extension Master Gardener Volunteers will be available to answer gardening questions on everything from turf and ornamental plants, to fruit and vegetable production. Stop by and pick up or drop off a soil sample test kit.
Fall Gardening A-Z Class – Wednesday, August 6, 2014 at 6:30pm. The class will meet every Wednesday for 11 weeks from 6:30 pm until 8:00pm at the Clayton Parks and Recreation building at 715 Amelia Church Road. We will spend some time working in the demonstration garden to give participants some hands on experience working in a garden. All the produce we harvest is donated to Clayton Area Ministries for distribution to families in need of fresh vegetables. There is also a classroom portion of the class that covers topics including selecting a garden site, preparing the soil, weed, disease, and insect control, as well as safe handling of produce. The cost for the class is $20, which goes to pay for supplies needed for the class. New and experienced gardeners can learn something they can use in their own garden. To register for the class visit the Clayton Parks and Recreation program page (https://secure.rec1.com/NC/clayton-parks-recreation/) this class is under Nature Programs.
---
BE CREATIVE, GO NATIVE!
Red Buckeye, Firecracker Plant
Aesculus pavia
by: Brenda Clayton
While visiting the Wilson Botanical Gardens this past April, the Showstopper Garden got my full attention. Planted there were some of the showiest specimens I have ever seen along one garden path. Since red is my favorite color, it is no surprise what plant grabbed me – the Red Buckeye – and it was fabulous!
Native to the Eastern United States, you can find it growing along the banks of rivers and streams. It blooms as the hummingbirds are making their yearly migration into our area and becomes an important source of food for them while they wait for other flowers to bloom.
In the fall, plants form showy seedpods or nuts from which we get the name "buckeye".
Let's explore the Red Buckeye's attributes:
Form: Deciduous shrub or small tree.
Size: 10'-20' tall and wide at maturity.
Culture: Grows in average, medium moisture, well-drained soil. Either full sun or part shade is acceptable. It likes the filtered shade of taller trees as the foliage tends to scorch in dry conditions in hot summer climates. It's quite drought tolerant once established.
Flower: Showy 4"-7" long panicles of dark red or orange-red tubular flowers. Blooms are held upright like candles. Bloom time is April to May.
Planting/Propagation: Plant Red Buckeye in the dormant season. Fall is best or before plants leaf out in the spring. The nuts can be planted in autumn. Plants are true to form and can easily bloom by the third year.
Poisonous: The nuts or buckeyes are poisonous if eaten. Keep this in mind if you have small children in the vicinity of your buckeye.
Because the Red Buckeye is so showy when in bloom, it is best used as a specimen plant, perhaps near a patio, or as a focal point along the garden path. For the impatient gardener, it brings instant gratification as it starts blooming at just 3 feet tall. Plant it where you will enjoy those large red blooms every spring for years to come.
One additional point to interject, the bottlebrush buckeye is Aesculus parviflora which produces beautiful white clusters of flowers. This shrub is a good choice for mass plantings. Though we call both plants "buckeyes", they are quite different.
Bloom time is now past, but planting time is approaching! Look around for just the right location for this fabulous plant that will enliven your garden with red, red, red!
References:
Missouri Botanical Garden:http://www.missouribotanicalgarden.org/PlantFinder/PlantFinderDetails.aspx?kempercode=j210
Wikipedia: Aesculus paviea:http://en.wikipedia.org/wiki/Aesculus_pavia
---
YARD VILLAIN
Sooty Molds
By: Shawn Banks
If you have ever noticed the leaves on your plants turning black, you will want to continue reading. There are several different fungi that can cause this look on the upper surface of plant leaves. These fungi are not the major problem that needs to be addressed. The real problem lies in what the fungi feed on. You see, these fungi, while unsightly, are more of a nuisance to the plant than anything else. As they grow and the black gets thicker, it blocks light transmission into the leaf. Leaves need light to produce sugars to feed the plant; fewer sugars means less plant growth.
Sooty molds don't actually feed on the plant. They feed on the excrement (honeydew) of insects that feed on the plant. Many different insects including whitefly, aphid, and scale insects use a piercing-sucking mouthpart to pierce the skin of the plant and feed on the plant juices. These juices include the sugars the plant makes to feed itself. The insects ingest what they need for food and excrete the rest, which includes much of the sugar. If you have ever parked under a large oak tree for a few hours and noticed there were little clear droplets on the windshield when you returned, you've seen honeydew.
The key to removing the sooty mold on the leaf is to remove the insect creating the honeydew. Depending upon the insect feeding on your plants, there are several insecticides that can be used. Most of these insects can be controlled using horticultural oils. The use of horticultural oils to control the insects also helps remove the sooty molds from the plant leaves. Note that horticultural oil may also cause damage to the plant if used at the wrong time or in a dose that is too high. Always read and follow label directions when using any chemical. Once the insects are gone or the number is greatly reduced, the sooty molds should weather away in just a few months.
Reference:
Insect Note 41: Sooty Molds – https://www.ces.ncsu.edu/depts/ent/notes/OT/houseplants/note41/note41.html
---
WHAT'S IN SEASON
Walatham Butternut Squash
Cucurbita moschata

By: Tiffany Whichard
Few things are as emblematic of a harvest table as Waltham Butternut squash (Cucurbita moschata). This versatile vegetable can find a home in creamy soups, and is often cubed and roasted, infused with fragrant cinnamon. It also works perfectly for a savory gratin and would be a great filling in a pillowy ravioli dressed with a sage brown butter sauce.
The heirloom variety of Waltham Butternut originated in Massachusetts, after years of patient and repeated trials by Mr. Bob Young. In 1970, the squash would go on to be awarded the designation of All American Selection Winner, a benchmark that declares it to be superior for home growers. Deservedly so, this Fall vegetable has stood the test of time and remains a favorite of many gardeners even today.
Walthams are very easy to grow and typically offer high yields but do require a long growing season (100 frost-free days). Best direct-sown, they need a well-drained, fertile spot with nighttime temperatures that remain above 60 degrees. If you'd like to start them as transplants, you can, but keep in mind their roots don't like to be disturbed much. To begin as transplants, sow the seeds ¾ inch deep, three weeks in advance of when you wish to transplant them. A four-inch pot is probably best, as that will allow plenty of room for growth. Be sure to harden plants off, acclimating them slowly to being outdoors, for a minimum of a week prior to putting them in the ground.
Walthams need plenty of 'elbow room' in the plots; 36 inches between each if you can manage it, as they do tend to sprawl and ramble. If space is at a premium and you need to grow them in containers, you can, but you'll want to select a variety with a more compact habit. Although not an exhaustive list, you may want to consider: Burpee's Butterbush, Bush Delicata, Bush Table Queen, Heart of Gold and Ponca Baby Butternut.
Unlike many other squash, Walthams offer superior resistance to vine borers. Cucumber beetles can be an issue but are less problematic once plants get beyond the seedling stage. At maturity, larger Walthams will have a buff-colored exterior, a uniform, straight neck and will be 8-9 inches long, averaging 3-6 pounds each. To gauge if the squash is ripe, look at the stem. It will begin to dry and shrivel. If you're still in doubt, attempt to gouge the outside skin with a thumbnail. If it is too hard and you are unable to make a dent, the squash is ready to come off the vine.
To harvest, you'll want to remove the squash with a sharp blade, leaving some of the stem intact. Be sure to carry the harvested fruit gently and don't handle it by the stem. If the stem is broken off, it will drastically shorten the storage life of the squash. After harvest, it is important to cure Walthams for best flavor. The curing process requires you to leave the squash in the sun for a period of up to 10 days or in a cool room, such as a garage, for just shy of a week.
Preparation is also simple. I typically roast my Walthams. I find it enhances that sweet, slightly nutty flavor. If you've never roasted one before, it's easy. Heat your oven to 400°F. Carefully slice off the top and bottom of each butternut squash so they will sit flat on a secured cutting board. Now, rest your squash on the widest end and using a large, heavy knife, begin to slice down vertically. Sometimes you'll come across a little resistance about 3/4 of the way down. No big deal. You can use a small sawing motion on one side. Work slowly and I promise it will come apart.
To prepare the squash for roasting, you'll use a spoon to scrape out the little cavity inside. It will look much like a pumpkin. The seeds and guts can be composted or discarded. If you have a mind to, you can always roast them. Now prick the flesh of your squash liberally with a fork, rub it lightly with oil, season the flesh side with salt and place face down on a prepared cookie sheet. (I use a Silpat but you can also use a rimmed cookie sheet prepped with cooking spray or one lined with foil).
Roast the squash for about 40 minutes or until you can easily pierce it with a fork. If your fork meets resistance, you'll want to give it some extra time. That's really it. After taking it from the oven, allow it to cool briefly before turning it over and scoring. Then scoop out the pulp and process it according to the recipe directions. Oh, and you can also steam butternut, if that floats your boat. I happen to think this method is easier though.
Ready for a recipe? Here you go. This is one that I served this past Thanksgiving as a starter, along with a bacon wrapped pear salad with an apple-ginger vinaigrette. Both were a big hit! One last note: This does call for caramelized sweet onion. To caramelize: Take one medium onion, cut it thinly and then sauté it in a large skillet slowly until the onion is golden and translucent. Once you've measured out 4 Tbsp. needed for the recipe, the remainder can be cooled and then placed in a Ziploc bag or ice cube trays and frozen until needed for another dish.
4 pinches (roughly a TBSP each) of caramelized sweet onion
6 cups peeled and cubed butternut squash (one large Waltham)
3 cups reduced sodium chicken broth
1/4 tsp ground black pepper
1/8 tsp ground cayenne pepper
1/2 package cream cheese, softened (4 ounces needed)
In a large saucepan, combine onion, squash, broth, pepper and cayenne. Bring it to a boil, and lower the heat to a simmer. Cook 20 minutes, stirring occasionally, until the squash begins to almost disintegrate. Add in the softened cream cheese and mix it through as best you can. Let this cool briefly and then pour the squash into a blender or food processor and process in batches until smooth. Return the soup to a saucepan, and heat it through if need be. Do not allow this mixture to boil. If desired, you can garnish with bacon crumbles, a drizzle of heavy cream or finely diced chives.
---
JULY GARDEN TASKS
GENERAL IDEAS
-Water deeply but infrequently, this will encourage deep rooting of plants for better drought resistance.
-Control fungal diseases which flourish in hot and humid weather by keeping irrigation water off foliage. The best time to water is early morning. This allows the sun to dry water from foliage. Watering in early evening creates damp foliage all night, which encouraging the development of fungal diseases.
-Help reduce the mosquito population by emptying any containers with standing water. Mosquito larva can grow in shallow water, like plant saucers that do not dry completely.
LAWN CARE
http://www.turffiles.ncsu.edu/
-When should you water your lawn? When the grass blades are just starting to curl and your footprints remain on the lawn when you walk on it. Watering too often encourages a lawn with a shallow root system that cannot handle drought well. Apply an inch of water, in the early morning. Set your timer for 4 am if you can.
-Grasses vary in their needs. Check out the Lawn Maintenance Calendar for your grass and learn how best to care for it, month by month.
-Keep fescue mowed at a height of 3 – 3 1/2 inches to help it survive hot, dry periods. It is a cool season grass that slows down in the summer. If it is cut it too short the tender roots will be exposed to extreme heat which will certainly damage, if not kill them. It is also difficult for fescue to recover from cutting too short as it is not actively growing at this time.
Repair Warm-Season Lawns: Bermuda, Zoysia, and centipede are growing strong by now, making it easy to see spots that are weak or weedy. Pull weeds and patch bare spots if you haven't already.
-Established fescue lawns naturally go semi-dormant in the heat of July. Established fescue can survive up to three weeks without water, but will need a drink if it doesn't rain by then! Water only when grass shows sign of wilt (footprints show when grass is walked on). Fescue planted last fall will need watering every week. See the Fescue Lawn Maintenance Calendar (link above).
TREES, SHRUBS ORNAMENTALS
-When you visit your roses, clip off leaves that show early evidence of blackspot – a common fungal disease that causes black spots on leaves. Put the spotted leaves in the garbage (not in the compost pile.)
-When gathering cut flowers to bring indoors, cut stems early in the day. Bring them indoors and recut the ends while they are submerged in a sink of water.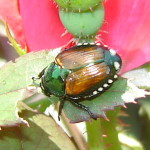 Don't use Japanese beetle traps. The pheromones in the traps often attract beetles that would not otherwise visit the area. To control a particularly pesky group of beetles, go hunting for them in early morning and shake them into a bowl of soapy water to get rid of them.
-Keep potted plants watered! Plants in pots outside may need daily watering in the heat of summer.
-Pinch out the tips of garden mums to encourage lower, compact plants with many flowers.
-Start stem cuttings of geraniums and leaf cuttings of succulents to be potted for use as house plants this winter.
-Propagate shrubs by rooting cuttings. Semi-hardwood cuttings of Azalea, Camellia, and Holly can be taken this month. The wood should be hardened enough that the stem breaks when bent.
-Prune spent crape myrtle blossoms to prolong the flowering period.
-Sooty Mold on the crape myrtles will make the leaves appear dark and sooty or almost uniformly charcoal gray. Sooty mold grows on honeydew (the sticky leftovers) from aphids. Control the aphids, and the mold will wash off.

-Powdery Mildew makes leaves appear gray and powdery. It's a common problem which disfigures the foliage, but doesn't kill the tree.
-Hand-pick bagworms off evergreens. Pesticides are not effective once the caterpillars are safe in their bags.
-Remove vigorous upright sprouts growing from tree roots ("suckers"), or from the upper surfaces of tree branches ("water sprouts").Pruning the sprouts out directs the tree's energy into desirable growth.
-Weed when it's easy. Weeds are easier to pull when the soil is moist, so wait until after a soaking rain or irrigate the area first. The roots of desirable plants can be injured by pulling large weeds nearby so pull those weeds in late afternoon or on cloudy days, and water the area afterward to help injured plants recover.
-Start seeds for cool-weather annuals indoors in July/August for fall planting. Try foxglove, pansy, alyssum, snapdragons, ornamental cabbage (kale), and primroses. Pansy seeds germinate well when stored in the refrigerator (not freezer) for 10-14 days before planting.
VEGETABLES FRUITS
-Pinch out the tips of blackberry shoots when they reach about 4 feet tall. This helps form a tidier hedgerow for easy picking.
-Soon after tomatoes begin to set fruit, give them a boost of fertilizer to keep them vigorous and productive. Most of the new varieties are heavy producers if provided with good nutrition and adequate soil moisture.
LANDSCAPE IDEAS
-Deckscape: Play with colors, textures, and the placement of furniture on your deck or patio. Use container-grown plants, windsocks and sculptures to change or fine-tune your color scheme and overall feel.
-Think strategy. Now that deciduous trees and shrubs are in leaf, survey your landscape critically. Do you have too much? too little? are plants too low where screening is needed? So tall a view is blocked? Take photographs and make plans to add or move shrubs this fall. Don't do it now.
WILDLIFE
-Put out a bird-bath. Keep it filled with fresh water. Change it once a week to minimize mosquitoes. Birds will pay you back by eating lots of insects!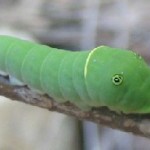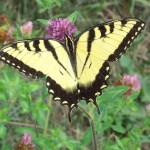 -Think twice about squashing caterpillars; many turn into butterflies. This is just one example of what swallowtail caterpillars look like. This is a swallowtail butterfly(right). Swallowtail caterpillars (left) love parsley, so set out a few extra plants to share with them. A pan of moistened pebbles or sand will attract butterflies.
*** If you would like to receive this newsletter monthly via email, send an email to shawn_banks@ncsu.edu asking to be added to The Gardener's Dirt email list.
________________________________________________________________________________
If you have gardening questions you would like to have answered contact the Extension Master Gardener Volunteers by phone at (919) 989-5380 or by e-mail at jcemastergardener@gmail.com.
If you would like to subscribe to this monthly newsletter send an e-mail to shawn_banks@ncsu.edu and ask to be added to the electronic newsletter list.
________________________________________________________________________________
Past Newsletters Johnston County Lawn and Garden
---
Was the information on this page helpful?