The Gardener's Dirt May 2014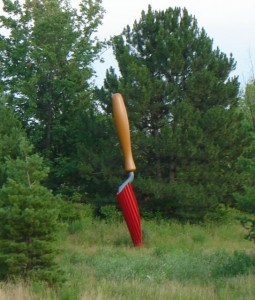 Information you can really dig into
This newsletter offers timely information for your outdoor living spaces. Addressing the most common questions ranging from container gardening, tree pruning, wildlife management, to fire ant control, insect identification and lawn establishment.
Click here for a printable version of this newsletter.
Shawn Banks
Extension Agent
Agriculture—Consumer Horticulture
---
FEATURE ARTICLE
Edible Landscapes
By: Joanne King
Rows and boxes are not the only way to grow herbs and vegetables, and flowers are not the only ornamentals.
Imagine this: You walk out your front door on an early spring morning and see your warm-weather lawn trying to sneak into season. To your right, just off the stoop, there's a hedgerow and in front of it, asparagus is popping up, three or four clusters of them growing to 6 or 7 inches. You cut them down for supper or to freeze for a summer vegetable grill, knowing that by evening they will return again for yet another harvest. Soon a couple of tomatoes will bookend the asparagus patch, providing for a mutually beneficial environment in different seasons. Carrots and parsley will add interest and vigor.
Stepping off the stoop, you stroll toward the driveway. Nandina and chamomile dancing together to grace your path and beyond them, in the middle of your yard, bright yellow daffodils are the first to greet the spring and the beautiful, multi-colored heads of tulips are starting to join the party. Low growths of marjoram that survived the winter provide a pleasant ground cover and soften the view where dormant grasses and mums await their turn. Nestled nearby, but far enough away that digging them up won't disturb the bulbs, the gorgeous green leaves of potato plants let you know that this year's crop is going to be a good one.
Turning left toward the backyard, the roses are leafing out as is the bee balm and mint sharing the space. Tomatoes will soon go in this spot as well; the bee balm improves the flavor and growth of tomatoes and invites bees and hummingbirds to the area. Nearby, bush beans and black-eyed Susans will offer variety deep into the summer. In fact, bush beans are great gap fillers in edible landscapes when the harvest from spring creates bare space in summer.
Cucumbers, chard, and any number of herbs can also make good gap fillers and provide exquisite visual interest when intermingled with ornamentals. Spinach and strawberries grown together are mutually beneficial while cherry tomatoes near fall-blooming aster are simply gorgeous. Radishes and lettuces are pragmatic additions to almost any flowerbed. Containers with sweet potatoes, cabbages, grasses, or peppers can dress up any area and, in some cases, be moved to accommodate space, sun, or irrigation.
Edible landscaping is easy and fun. You can grow more in less space and it usually requires less irrigation and minimizes weeds. The only rule is to toss the rules. Let neat and tidy rows give way to haphazard splendor. Try what looks good and with a little research or just trial and error, you'll learn what grows well together, what looks great together, and what plants support each other. Chances are you will find new herbs and vegetables to add to your dinner plate because they look so good near another plant in your garden, and you might even learn which of your flowers you can add to your salad plate for a tasty and beautiful meal!
---
FEATURE PLANT
Maypop, Passion Flower
Purple Passionfower Vine
Apricot Vine
Passiflora incarnata
By Margy Pearl
Have you ever wondered how certain flowers got their name? I think the name origins of this exotic, native wildflower vine are fascinating! This excerpt from the North American Butterfly Association (http://nababutterfly.com/purple-passionflower) describes the Passionflower species intricate floral appearance as symbols of the Passion of Christ's crucifixion:
"The petal's purple stripes mimic Jesus' wounds. The coronal filaments symbolize the crown of thorns. The styles represent the three nails and the stamen represents the hammer that drove the nails into Jesus' hands and feet. The three secondary calyx and attending leaf bracts signify the holy trinity. The stigmas represent Jesus and the two thieves. The petals and sepals represent the 10 faithful apostles who were present at the crucifixion. The leaves represent the hands of the prosecutors, and the clinging tendrils are the scourges used to flagellate Jesus as he carried the cross. A chalice-like ovary symbolizes the Holy Grail. And the flowers of Passion Vines are generally purple, blue and white, colors which represent the King, the heavens and purity."
The common name for Passiflora incarnata also have interesting stories. Edible, delicious, egg-shaped fruits called maypops appear in July and mature to a yellowish color in the fall. Used for jelly or a sweet drink, they were harvested by American Indians as a source of food. They were also used as medicine in poultices for inflammation, nerve teas, and tonics for insomnia. The name "Maypop" is due to the loud popping noise that the hollow fruit makes when crushed! Because of the color of the fruit, Apricot Vine is yet another common name. In Kansas, it's known as the "Willpop"!
The native range of the Passionflower Vine encompasses the southeastern section of the U.S. from Kansas east to Pennsylvania, then south to Texas and Florida. Incarnata is the hardiest of all the 350 Passiflora species. In warm climates, the perennial vines are woody; in colder climates, they die back to the ground. In the spring, this rapidly growing vine produces climbing shoots from a rhizome. Clinging by tendrils, the maypop will quickly cover a sturdy fence or a 12 to 36 foot trellis with its large, bright green, palmate foliage. Blooming in the spring and summer, even when growing by root suckers as a groundcover, the Passionflower Vine can form a sturdy 5 to 6 foot base. When grown in any well-drained soil, this vine is drought tolerant. Plant this beauty in sun to part shade and moist, fertile soil to produce the lushest vines. I know this works! My original vine is in the woods and rather scrawny. But, a volunteer I shared with a Master Gardener friend was glorious and full of blossoms in May last year when grown in her off-the-charts enriched soil. That Passiflora incarnata rivaled the bloom of the well-established vine at JC Raulston Arboretum!
Those fragrant, unique blooms are incredibly attractive to more than just the appreciative gardener! As an addition to a butterfly garden, the maypop has the highest rating – a 3 on the North American Butterfly Association caterpillar scale! This native is the larval host for the Gulf Fritillary, Crimson-patch Longwing, Red-banded Hairstreak, Julia Heliconian, black and yellow Zebra Heliconian (Longwing), and Mexican butterfly. The fruit is also a food source for birds, but deer are moderately able to resist the temptation to nibble.
If native plants, butterflies, a Bible-themed garden or just gardening itself is your "passion," consider adding the divinely gorgeous Passiflora incarnata to your landscape and your garden won't just "maypop". IT "WILLPOP"!
Additional References & Images:
http://plants.ces.ncsu.edu/plants/all/passiflora-incarnata/
http://www.missouribotanicalgarden.org/PlantFinder/PlantFinderDetails.aspx?kempercode=q280
https://www.wildflower.org/mobile/plants/result.php?id_plant=pain6
http://nababutterfly.com/purple-passionflower/
---
UPCOMING EVENTS
Plant Clinic at Hudson's Hardware – Saturday, May 10, 2014 in Clayton form 10am -2pm. The Extension Master Gardener Volunteers will be available to answer gardening questions on everything from turf and ornamental plants, to fruit and vegetable production. Stop by and pick up or drop off a soil sample test kit.
Summer Gardening A-Z Class – Wednesday, May 14, 2014 at 6:30pm. The class will meet every Wednesday for 11 weeks from 6:30 pm until 8:00pm at the Clayton Parks and Recreation building at 715 Amelia Church Road. We will spend some time working in the demonstration garden to give participants some hands on experience working in a garden. All the produce we harvest is donated to Clayton Area Ministries for distribution to families in need of fresh vegetables. There is also a classroom portion of the class that covers topics including selecting a garden site, preparing the soil, weed, disease, and insect control, as well as safe handling of produce. The cost for the class is $20, which goes to pay for supplies needed for the class. New and experienced gardeners can learn something they can use in their own garden. To register for the class visit the Clayton Parks and Recreation program page (https://secure.rec1.com/NC/clayton-parks-recreation/) this class is under Nature Programs.
Master Gardener Plant Sale– Saturday, May 17, 2014 8am – 12pm at Johnston County Ag Center in Smithfield, NC. The Extension Master Gardener Volunteers will be having their annual plant sale. The plants offered at this plant sale are those that were propagated by the volunteers from plants in their own yards and around the Agriculture Center. This year columbine, rain lilies, and flowering ginger will be among the selected plants at the sale. If you are looking for a bargain on a plant that does well in our area, this is a good place to start.
For accommodations for persons with disabilities, contact Bryant Spivey at 919-989-5380 no later than Five business days before the event.
Clayton Farmer's Market – Saturday, May 24, 2014 9am -1pm at Clayton Farm and Community Market. The Extension Master Gardener Volunteers will be available to answer gardening questions on everything from turf and ornamental plants, to fruit and vegetable production.  Stop by and pick up or drop off a soil sample test kit.
Flower Hill Nature Preserve – Native Catawba Rhododendrons in Johnston County. Visit Flower Hill Nature Preserve, 8954 Flower Hill Rd., Middlesex NC. This month to see native plants normally found only in the mountains. A must-see Johnston County treasure; don't miss it! Check out the website at: http://www.triangleland.org/what-we-do/nature-preserves/flower-hill-nature-preserve
---
BE CREATIVE, GO NATIVE!
Eastern Columbine, Wild Columbine
Granny's Bonnet
by: Margy Pearl
Usually blooming from April to June, native columbine is one of the best perennial woodland wildflowers for shady gardens. This old-fashioned plant has been featured in European and American gardens since the mid-1600s. Native Americans used infusions from different parts of the plant to cure a variety of ailments. One use was as a wash for poison-ivy!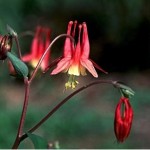 Form and Flower: Unique green to blue-green evergreen foliage comprises this 1-3 ft. native. Beautiful, nodding, bell-like flowers feature distinctly backward-pointing tubes called spurs. Five red petals with yellow lips and numerous yellow stamens make this a showy wildflower.
Site: Growing from a thin, woody rhizome, plants require well-drained soil. Once established, it tolerates a wide range of soils, even rocky, dry soil, although moist, humusy woodland soil is preferred. To prevent the foliage from dying back, keep soil uniformly moist after bloom. In general, be sure to provide adequate moisture if establishing the plant in the spring, rather than the fall. Cut plants to the ground if foliage deteriorates. New foliage will emerge, making the plant look fresh for the remainder of the season. At least partial shade is essential; do not plant in full sun, as growth will be stunted and leaves may burn.
Wildlife: Aquilegia canadensis is the larval host for the Columbine Duskywing butterfly (Erynnis lucilius). The flower spurs contain nectar that attracts the long-tongued insects and hummingbirds specifically adapted for reaching the sweet liquid. Hummers depend on this columbine as an important source of early season nectar. It also attracts hawk moths, butterflies, and five species of bees. Finches and buntings consume seeds. It is moderately deer and rabbit resistant.
Controlling Problems: Leaf miners attack native columbine less than other species. If it becomes a problem, cut off and destroy any infested leaves from plants after blooming. The new foliage will be miner-free! You can help columbines resist powdery mildew by cutting back the affected plant parts (down to ground level if necessary) and providing lots of air circulation around them. Water early in the morning and avoid splashing water on the foliage to reduce the spread of the disease.
Propagation: Columbines persists in the garden with volunteer seedlings. Seed is ready to collect when it turns black in the follicles. Deadhead early to prevent spreading and to encourage blooms.
Where to Purchase: Check local nurseries, such as Hudson's Hardware. Seed is readily available from the North Carolina Botanical Garden, garden centers and many online sources. Master Gardener sales, such as ours in Johnston County on May 17th, may include this native. Check the Triangle Gardener Magazine for local spring plant sales. Ask other gardeners! This native self seeds prolifically, so chances are good that someone has lots of volunteers to share!
Resources:
http://plants.ces.ncsu.edu/
http://www.wildflower.org/plants/result.php?id_plant=AQCA
https://www.garden.org/plantguide/?q=show&id=3373
http://www.abnativeplants.com/index.cfm/fuseaction/plants.plantDetail/plant_id/83/index.htm
---
YARD VILLAIN
Fire Ants
Solenopsis invicta
By: Shawn Banks
This non-native ant can truly be called a villain. It will kill off or chase away almost all other forms of life in its territory. Insects are a food source for these ants as is almost anything that provides some sort of fat, such as greasy potato chips, hot dogs, or other animals.
When their home (mound) is disturbed they rush out to protect it. This is more than just a bite fest, as with some other ants. Fire ants sting! They have a stinger like a bee or wasp and attack like hornets when disturbed. About 2% of all people are allergic to the venom in their stinger. Those who are allergic will know by the massive amount of swelling that takes place, even from a single sting. It's normal to receive a small puss filled pimple that itches.
When the mound is disturbed some ants may be seen that have wings on them.These winged ants are the new queens and male ants that haven't yet taken flight to mate. When they do take flight they will fly way up into the air and may travel up to ten miles before coming down to establish a new mound.
In any given area there may be well-established mounds and newly mated queens that haven't been able to establish a new mound. To control all these mounds it's best to use a broadcast bait product that can be used to treat a large area. Fire ants forage up to 100 feet from the mound to find food. This means it won't take a lot of bait to cover the area, because the ants will search it out and take it back to the mound.
If a mound pops up in a sensitive area such as a dog kennel or a driveway, there are effective mound treatments to eradicate this mound. There are many different products that can be used as a mound drench. When drenching a mound it will take two to three gallons of water to reach to the bottom of the mound. Start by wetting the area around the mound and work in toward the center. This will prevent ants from escaping in underground tunnels. Powders can also be applied to mounds to be tracked into the mound, but take longer to kill the mound.
For highly sensitive areas of the yard like a gravel drive, there are some products that will prevent the ants from becoming established. These products are granular products that should be spread over the area and watered in to become effective. Check with your local garden center to see if they carry one of these type products.
As with any chemical product, if you decide to apply them yourself, read and follow all the label directions.
Reference:
Insect Notes: Red Imported Fire Ants in North Carolina, https://www.ces.ncsu.edu/depts/ent/notes/Urban/ifa.htm
---
WHAT'S IN SEASON
Kiwi Fruit
Actinidia deliciosa
By: Shawn Banks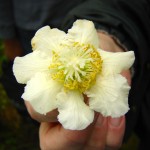 With the new USDA Hardiness Zoning putting Johnston County in the Zone 8 category, we might now be able to grow the large fruited Kiwi vine here in our area. This vine is considered a subtropical species and should be able to grow well in our area. The problems that have occurred with this plant in the past have been winter injury due to our fluctuating winter temperatures. This plant is very sensitive to temperatures that bounce around during the winter. It can be hardy down to 10 degrees F if the temperatures gradually drop to that level and remain there for the winter. Winter protection is good for this crop, especially the lower two to three feet of the vine. Piling straw around this portion of the vine will offer some protection.
The fruit needs a frost-free period of 220 days from blossom to maturity. The flowers will appear in mid May, putting the harvest in late October to early November. If the plant receives frost damage after leafing out in mid to late March the flowering will be delayed or even aborted to preserve the health of the vine.
Kiwi is a vine and can be grown on a trellis much like a muscadine grapevine. The kiwi vine is more vigorous than the muscadine grapevine and may need some summer pruning to keep the plant from overrunning the yard and garden. Winter pruning will also be needed to keep the vine vigorous and healthy.
As a dioecious plant, meaning the plant either produces male flowers or female flowers; you will need a male and a female plant in order to get fruit. If you are planting several plants, a good rule of thumb is to have one male plant for every 8 to 10 female plants. The fruit is best when ripened on the vine, but may be harvested a little early and ripened on the counter if an early frost is expected.
Here is a recipe for a fruit pizza that I would like to try. I found this on Allrecipies.com.
Ingredients:
¼ cup butter
32 large marshmallows
5 cups crisp rice cereal
8 ounces cream cheese
2 cups confectioners' sugar
¼ cup unsweetened cocoa powder
16 small strawberries, halved
1 banana, peeled and sliced
2 kiwis, peeled and chopped
1 ½ teaspoon water
2 teaspoons heavy cream
2 teaspoons white sugar
½ teaspoon vanilla extract
Directions
In a medium saucepan combine the butter and marshmallows. Stir over low heat until melted. Remove pan from heat and stir in the crisp rice cereal. Prepare a pizza pan by lightly coating with vegetable oil spray. Press the cereal mixture evenly onto the pizza pan. Place into the refrigerator to cool.
To make the sauce, combine cream cheese, confectioners' sugar and cocoa in a small bowl. Beat until smooth and creamy. Spread evenly over the pizza crust. Arrange the strawberries, bananas, and kiwi slices over the crust to look like pizza toppings, or make a fancy design.
In a small cup, mix together the apricot jam with the water. Dab onto the fruit with a brush. This will keep the fruit from turning brown. Whip the heavy cream, sugar, and vanilla until stiff, drop dabs of whipped cream onto the pizza. Slice like a pizza, but thinner. This is a very rich dessert.
Reference:
Horticulture Information Leaflet: Kiwifruit; https://www.ces.ncsu.edu/hil/hil-208.html
Yummy Fruit Pizza; http://allrecipes.com/Recipe/Yummy-Fruit-Pizza/Detail.aspx?evt19=1
---
MAY GARDEN TASKS
LAWN CARE
Don't fertilize cool-season turfgrass (fescue, bluegrass). It has been growing actively all winter, and it will begin to go dormant as summer heats up. Let it slow down naturally, and it'll be better able to withstand the heat and drought of summer.
Call for a Lawn Maintenance Calendar for your type of turf. It tells you how to care for your lawn month by month – such things as fertilization, mowing and watering.

Most of the weeds you see now are winter annuals. The time to control these was last August. In a couple of weeks, the weather will be too hot for these winter annuals, and they will start dying. For this reason, it is a waste of time and money to spray them with herbicide. The best thing to do is mow them before they produce and spread seed around and put it on your calendar to spray for them in August.
Warm-season grasses such as Bermuda, Zoysia or Centipede can be planted now. Mow cool-season grasses, such as fescues, at a height of 3 – 3 1/2 inches to help them survive hot, dry periods.
TREES, SHRUBS, and ORNAMENTALS

Pinch your plants. Use your index finger and thumbnail to break out the lead growth at tips of branches. Pinched plants have shorter, sturdier stems, more lateral branching and more blooms. Pinch back mums, zinnia, salvia, cockscomb (celosia), petunias, marigolds, snapdragons, and garden phlox.
It's time to plant summer beauties such as gladiolus, dahlias, caladiums and cannas and all those colorful bedding plants. Dead or diseased limbs on woody ornamentals should be apparent by now. Prune them out.
Stake floppy plants, such as peonies, dahlias, and Boltonia (Michaelmas daisy), while they're small, so they'll have support when they need it. After plants have grown large, they can be injured by staking.
Cut roses properly. Removing too much wood and foliage when cutting flowers can seriously weaken your rosebushes, especially during the first year. Leave 2-3 well developed leaves (groups of five leaflets, not three) between the cut and the main stem.
Grow great bearded iris by giving them excellent drainage, fertile soil, sunshine, and beds free of competing weeds and grass. Divide frequently (in August) for larger and finer blooms.

Prune spring-flowering shrubs after they bloom. The best time to prune azalea, rhododendron, forsythia, spirea, flowering quince, kerria, pieris, and weigela is just as flowers begin to fade. Don't wait till summer, or you'll cut off next year's flower buds. To keep your shrubs ever young, prune one-third of the oldest canes back to the ground each year.
Prune wisteria frequently throughout the summer, to control vegetative growth and get better blooms next spring.
Keep dogwoods healthy. Spot anthracnose and powdery mildew are two major disease problems that show up on dogwood trees in late spring and summer. To help dogwoods overcome diseases: keep them watered, maintain soil fertility, and clean up fallen leaves to minimize the spread of the disease.
Mulch! Prepare for dry summer weather and control weeds at the same time by using a layer of mulch 2-3″ thick. Read more about the benefits of mulch in this Horticulture Information Leaflet from NC State University.
Banish bermudagrass (Wiregrass) from your planting beds. Keep it pulled to prevent it from overrunning your garden.
Plant seeds of annual vines such as moonflower, scarlet runner beans or passionflower.
Mix plants with the same growing requirements in your container gardens. Do not mix sun-loving and shade-loving plants together in the same container.
VEGETABLES and FRUITS
Plant veggies now that the soil is warm and the danger of frost is past. Sow seeds of beans, squash, cucumbers, and corn. Set out transplants of tomatoes, peppers, eggplant and okra. https://www.ces.ncsu.edu/depts/hort/hil/ag-06.html
Pinching also works well for many vegetable plants, including tomatoes and peppers.

Watch for slugs. These soft, slimy, slender pests have a special taste for tender young crops. Holes in leaves or on the leaf margins and a silvery slime trail in the morning indicate a slug feast the previous night. Slugs hide under boards, stones or debris during the day. Call for a bulletin on control of slugs.
Train and support tomatoes, pole beans, peppers and eggplants. Side dress sweet corn when it is knee-high.
Make consecutive plantings of beans over a few weeks to extend your harvest.
LANDSCAPE IDEAS
Plant vegetables in your flowerbeds! Eggplant, pepper varieties, and cherry tomatoes make colorful additions to the garden. Bush beans and climbing beans have attractive foliage and charming small flowers. Vegetables can also mingle with flowers in pots on a patio or deck.
Welcome back hummingbirds! Females will be in the area first; the males will follow soon. Salvias, honeysuckles, penstemons, and other tube-shaped flowers, especially red ones, will attract hummingbirds to your garden. Fill feeders with a solution of 1 part sugar in 4 parts water. Wash feeders and replace the food at least twice a week.
---
If you have gardening questions you would like to have answered contact the Extension Master Gardener Volunteers by phone at (919) 989-5380 or by e-mail at jcemastergardener@gmail.com.
If you would like to subscribe to this monthly newsletter send an e-mail to shawn_banks@ncsu.edu and ask to be added to the electronic newsletter list.
---
Was the information on this page helpful?