Summer Gardening Series Begins June 18
Looking to grow your vegetable gardening knowledge this year? Join us for one or all of our summer gardening classes!
Classes begin June 18, 2019. All classes held at Unity Park and Community Gardens in Lenoir (1419 College Ave SW, Lenoir, NC 28645).
Pest Management – June 18, 5:30 p.m.
Growing Garlic & Perennial Onions – July 2, 5:30 p.m.
Cooking with Bounty Part 1 – July 20, 9 a.m.
Straw Bale Gardening – August 6, 5:30 p.m.
Cooking with Bounty, Part 2- September 28, 9 a.m.
All classes are free and open to the public. To register, please call: 828-757-1290.
For accommodations for person with disabilities or limited English profiency, please call 828-757-1290 at least two weeks prior to the event.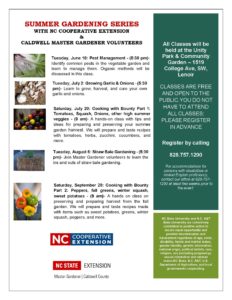 SUMMER GARDENING 2019 SERIES OFFERED