Container Gardening 101
Find this article at:
go.ncsu.edu/readext?692220
The COVID-19 pandemic has made knowing where your food comes from more relevant than ever. We are starting to see a rise in people growing their own food. With a rise in this, container gardening has been at the forefront.
Container gardening is a great option for many reasons. You can turn your front porch, back deck, sunroom, etc into a producing garden. Selecting the right containers, planting media, and plant combinations are the first steps in creating a successful garden. We hope this publication acts as a guide for you when carrying out your own container garden.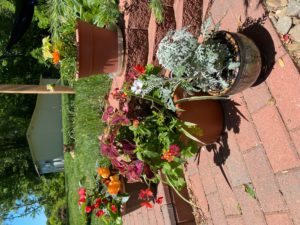 Selecting a container
Almost any type of container will work as long as it has drainage holes.
Wood, clay, and unglazed ceramic containers will lose moisture more quickly and will, therefore, require more frequent watering than plastic, metal, fiberglass, or glazed pots. This is also true for small or dark-colored containers.
Selecting plants
Most vegetables and herbs will do well in containers but your cucumbers, squash, and tomatoes are heavy feeders that will require extra nutrients in order to produce healthy fruit.
Selecting pots and plants with design in mind.
Plants can be grouped in containers based on:
Harvesting time—spring, summer, or fall crops
Form—round, horizontal, oval, upright, or trailing
Size—small plants in front and underneath and large plants above and behind
Texture—coarse (stout stems, large leaves, big fruit), medium, or fine (dainty leaves, wispy stems, tiny flowers)
Color—of flowers, leaves, or fruit
Ingredients for favorite recipes to create a themed garden—Mexican, Italian, Mediterranean, or Asian
Overall to plant a successful container garden you must
Grow on a balcony, deck, or entrance area. (easy access area with sun)
Use containers that have drainage holes
Avoid small and dark-colored containers
Use planting media, not garden soil
Group plants together that have similar requirements of sun, water, and nutrients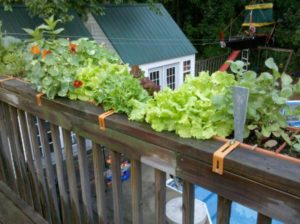 For more in-depth details and steps visit this link: https://go.ncsu.edu/container-gardening